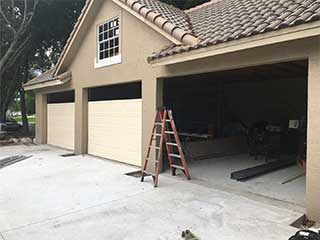 Every automatic garage door system should be properly maintained in order to prevent a lot of problems from manifesting and keep its various moving components in great working order. Letting professionals take care of this aspect is highly beneficial, as it can guarantee the system's wear and tear will be significantly reduced and its optimal performance ensured.
Safety Testing The Opener
The motorized unit that controls and powers the performance of your garage door must be checked on a regular basis to make sure its different safety-ensuring features are working. The photoelectric eyes your opener uses to prevent it from closing the door while there's an object or a person in its way must be in great condition at all times. We'll make sure their lenses are clean and unscratched, and perform the sensor realignment task as required.
A Complete Examination
Every hardware part of your garage door needs to be carefully inspected for damage. This includes the panels, which can dent or crack depending on whether their made of steel, aluminum or wood. It also includes the cables, as they can become frayed, as well as the rollers and the tracks, which can wear out or bend, causing stuttering movement and potentially leading to a scenario where the door gets off track. Ensuring all these components are in great shape will help you avoid accidents and keep the system operational for a lot longer.
Proper Spring Maintenance
Your garage door springs are perhaps the parts that require the highest amount of attention, as their role is absolutely critical. Opener problems can be incredibly inconvenient and incredibly dangerous, sure, but at least you usually still have the option of using your door manually in case something goes wrong with that device. If a spring breaks, however, using your door will be impossible, and even just trying to do so can lead to catastrophic results. Our technicians will check these components for deformed coils, lubricate them to ensure their smooth performance and even adjust them if necessary, to make sure the door remains perfectly balanced and even.
Give Us A Call Today
Don't hesitate to reach out to our experts at Garage Door Repair Milford to schedule a maintenance appointment. General upkeep is very important, and can save you a lot of money on unexpected emergency repairs.
Looking for more? We also offer:
Garage Door Off Track Repair
Opener Sensor Repair & Replacement
Galvanized Torsion Spring Installation