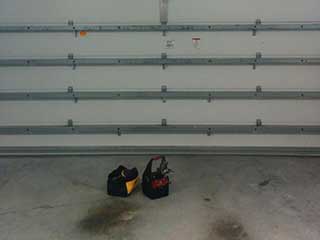 Ensure Your Garage Door's Longevity
Aside from regular maintenance, making sure your garage door gets repaired at the first sign of trouble is the best way to keep it working for years to come! Allowing it to continue functioning with a broken part will cause the rest of the system to wear down even quicker from strain, creating more issues that will need to be dealt with. It may even cause it to break down entirely if the issue goes on long enough! Should you notice that your door is struggling to open or close correctly, is jerky when it moves, or anything else out of the ordinary, it's time to give us a call!
We'll Repair Or Replace The Tracks
Over time the tracks of your garage door may become dented from an accidental bump or tweaked from wear and tear of daily use. This can mean that your door won't be sliding over them as easily as it should or may even cause it to pop out of the track entirely in places. Our experts will take a look to determine if all that's needed is a repair, or if it will need to be carefully replaced. In either case, we'll get it done in no time!
Quick, Efficient Roller Services
The problem with your door's movement may actually be with the rollers inside the track, as they tend to get worn or rusty over time as well. This can be easily handled by one of our professionals! We'll check to see if they can be repaired, or need to be switched out, and get it taken care of ASAP.
Panels Are Not A Problem Either
You want your garage door to be looking its best, but sometimes accidents happen that leave a dent or crack in one of the panels! Don't fret. We can repair the panel and get it looking like new again or replace it entirely if needed.
Why Wait Any Longer?
When your door needs a check-up, just call Garage Door Repair Milford.
In addition, we offer:
New Garage Door Installation
Oil Tempered Torsion Springs
Belt Drive Garage Door Openers
Part Replacement & Lubrication