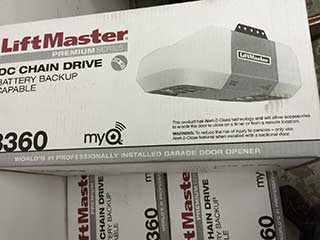 Your automatic garage door is able to open and close without you having to exert yourself thanks to the motorized unit that powers its operation. This device is called the opener, and it is comprised of both electrical and mechanical components. As a result, though, it can suffer from a wide range of problems, and professional assistance will be required when something goes wrong with it. Our team is here to help you when that happens.
The Best Products
We work with leading garage door opener brands like LiftMaster, Craftsman, and Genie, so any model we offer you will be of the highest quality available on today's market. Our experts can help you make sure you don't neglect to take things like smartphone compatibility, motor noise output and additional convenience-ensuring features into consideration before choosing your new model. Once you've found the model you want, we'll proceed with the opener installation and make sure the system is working flawlessly afterwards.
The Different Drives
Garage door opener models can differ quite a lot form each other, but they all can be divided into three categories, based on their drive system. One type may be perfect for you, while another may be a terrible choice, depending on your specific needs, so it's important to understand the benefits and downsides each offers. Chain drive opener models are usually more affordable and reliable, but they are also the loudest, and require more frequent maintenance. Belt drive units are virtually silent, but also more expensive. Screw drive models are fast and barely require any maintenance, however they are also moderately loud, and can be affected by shifts in temperature.
We Can Handle Every Problem
Whether your opener isn't working due to a broken motor gear or a fried circuit board, or your door keeps reversing because the safety sensors have become misaligned, our technicians will be able to help you. Opener repair is our specialty, so there's virtually no problem we can't handle. Contact Garage Door Repair Milford today and let us help you find a new opener or fix any problem you're having with your current device.
We also offer:
Garage Door Troubleshooting Services
Garage Door Torsion Spring Replacement