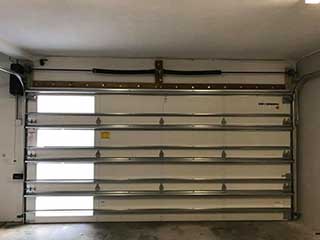 What Do They Do?
If you're wondering why you should worry about your garage door springs to begin with, we're here to explain! The energy that's used to lift up your door when you need to leave is generated with the springs, as it's much heavier than it may look. They create tension that translates into energy, which is used to pull up the door. That's why it's noticeable when something goes wrong with the springs, particularly if they break. Your door won't be going anywhere if that's the case!
DIY Is Way Too Dangerous
Thanks to the springs of your door supporting its weight, attempting to do any work on them yourself is highly inadvisable. Any missteps can bring the door crashing down; cause the spring to come loose and ricochet, and other dangerous problems that can pose a risk to you and anything or anyone in the way. The safest and far easier option is to allow a trained technician to handle it instead!
What Are The Types Of Springs?
There are two types that are distinct in how they generate the aforementioned tension. Extension springs are stretched out to do so, while torsion springs are twisted up. While they both achieve the same end goal, experts prefer torsion springs due to being safer and longer lasting. The constant pulling of extension springs to their limit makes them wear out far quicker, and when they snap they go flying and can cause damage and harm.
Whichever You Have, We Can Help
In either case, our team can take care of whatever spring you may have before you know it! We can either adjust them if they've simply gotten out of place or replace them entirely if needed. Our technicians will also inspect the other springs as well just in case they could also use replacing from being too worn or rusty so you won't have to worry about it for a while!
Take The First Step Now
Contact Garage Door Repair Milford today to schedule your door's spring appointment!
But wait, there's more! We also offer:
Broken Garage Door Track Repair
Door Opener Troubleshooting Services
Broken Garage Door Spring Replacement
Maintenance Garage Door Torsion Spring